Two Thousand Six Hundred

The Two Thousand Six Hundred, or TTSH for short, is a replica of an old classic semi-modular synthesizer. Available as a kit containing PCBs and front panel, nothing is pre-built and no components are included, for you to build yourself.
Testing of the new revision is now almost complete! It's been a long fall, with a lot of testing, but we are pleased to announce the list of changes for the next run -
PSU has been redone. DC-DC converter with regulated output to analog parts.
LED now has constant current driver, so all LEDs dim evenly.
Clock bleed through has been minimized.
VCO x-mod has been removed.
Almost no wiring, new board is 4 layers. So only wiring that is needed is power input and 7 wires to the speakers.
Speaker mounts on PCB. For easier testing.
All jacks mounted on PCB, including the multiple and kbd CV.
And these things haven't changed -
The rest of the circuit still remains the same. So it's just like the original!
Panel is same as end of last run.
New boards looks like this: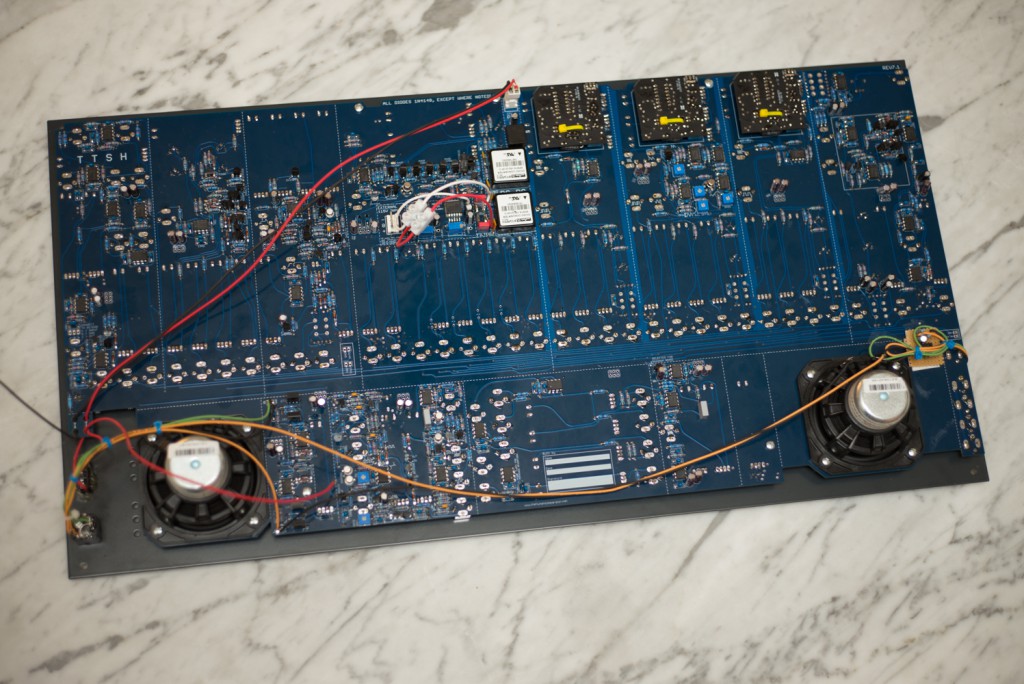 (Final board color will probably change…)
Prototyp säljes!
Har en prototyp över (bilden nedan), fungerar som den ska – Men bruset från fjädern är lite skumt, bästa sättet jag kan beskriva det är "vasst". Det är inget som stör när man använder synthen, utan det är om man har reverbet högt och inte spelar på den så hör man det. Säljes därför as-is. Det går förmodligen att fixa om man skärmar av reverbet eller trixar lite. 15.000:- inkl. moms. Hämtas i Stockholm.